Blue Sea Yacht
Technical information
Build: 2011
Length: 28m
Maximum capacity: 8 Pax
Cabins: 4
Engine: 2 x809KW / 2 x1100H
Crew: t.b.c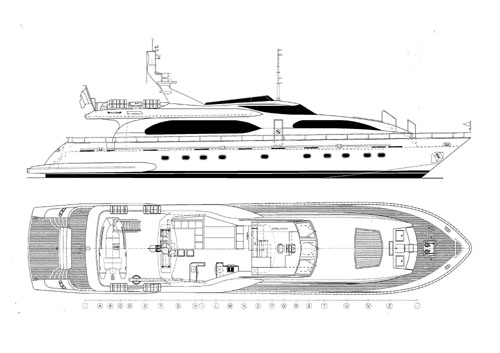 A striking tri-deck yacht that comes with sensational water-toys and a large amount of space
Not only is this yacht suitable for excursions over a couple of days but also the perfect yacht for a summer's day out on water, while you experience the stunning coastline of Mallorca. The special high-tech stabilizers ensure a smooth ride and on-board comfort at anchor and when waters are rough. Air conditioning, on board, Wi-Fi connection and high power engines are only a few of the amenities offered on board.
The outside deck is covered with a hardtop roof that provides shade for the several sunbeds. The interior cabins follow a timeless design, remarkable furnishings and comfortable seating within an elegant atmosphere.
Additionally, you may combine the exceptional yacht day with a picnic on a remote beach or a luxurious visit to a beach club….anything is possible!
(Subject to technical alterations)